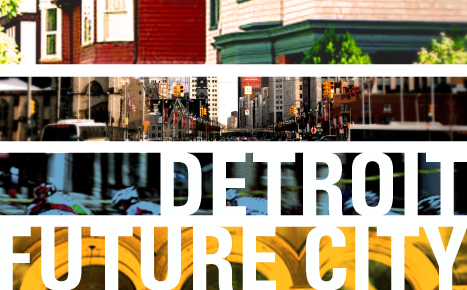 The Detroit Strategic Framework Plan. You might also know it as Detroit Future City: a massive, 368-page outline for improvements, revitalization, and development here in Detroit. While it's parent organization, the Detroit Works Project, has received some negative press due to some mistaken words and late schedules, the framework plan is exactly what it needs to be. It's the ultimate design research study: 30,000 conversations, 70,000 surveys and "countless hours" of observations and analysis. It represents what happens when we put designers in the public policy chair, and I can't wait to dive into it headfirst.
I'm going to be reading it piece-by-piece and dissecting it all the while. I would invite you to read along, share in the conversation, and learn about where the city is heading. And while the document isn't the Official City Master Plan, many organizations are already tying grant funding to programs that operate within the framework. So, you can be sure that it's a lot more than a conceptual project.
Let's Begin!
Part 1: Blueprint For Detroit's Future
Executive Summary
First off, I love how the framework starts out with Detroit's greatest assets: the people, the industrial infrastructure, its' community organizations, its land, and its spirit (an asset that cannot be understated). It's important to note that this report is not one to talk about problems, but merely opportunities for creative solutions created out of unique assets and situations. It's not blind to the realities facing residents of the city, but instead acts as encouragement for change rather than another redundant report about a city with problems (and we've had more than enough of those).
One of the things I love about the framework is the commitment it has to the residents currently living in the city. At a talk at the University of Michigan Detroit Center, Dan Pitera, the Civic Engagement Team Leader, likened it to an party. We can sit and complain about the people who have left the party, or we can focus on having a great time with the people still here. There's a lot of high-level conversation about bringing in more people and more revenue into the city, something that I support entirely, but forgetting about the 700,000 people who currently live here is quite a big mistake. It's more than just an economic mistake to ignore a gigantic market which is clearly in need of some essential services (see business 101), it's also one of basic civil engagement. It seems foolish to marginalize the people who hold the power of a vote. So, don't be surprised when citizens get upset with how you're running a city. I needs stating that the people of Detroit are far from apathetic.
How We Arrived At This Vision
"Four core values were put in place at the beginning of the process, to create a shared vision and plan of action:

ƒ Aspirational where it should be and practical where it must be

ƒ Respectful of the city's history, community efforts, and new ideas

ƒ Just and equitable in seeking to create benefits for all

ƒ Transparent and inclusive of all voices participating to improve our community"
You can't say they didn't set the bar high for their vision. It's important to pull this out and mull this over for a bit, because these values can act as a lens to view each recommendation and proposal towards the implementation phase. It's fair to say that this can be just as murkey as Google's "Don't Be Evil" motto, but it's at least something we can hold it to.
A Blend of Technical and Community Expertise
I absolutely love all of the tactics the engagement team used to research and gather input for possible solutions. With online games, a drop-in "HomeBase", a "Roaming Table", a video series, and much, much more, the initiative used everything at their disposal to reach out in some seemingly unorthodox and innovate ways. It's really important to say how crucial user research is in any good design process, and Detroit Future City has it in spades. As a designer, you must design for your user, and if you don't listen and talk to them, you're doing everyone involved a disservice. It is through good feedback throughout the process that we can create something that actually meets the needs of the user.
Next time: 12 Imperative Actions.
Posted
by