Last fall we broke a world record.  We brought a lot of people in the community together, created a fun and awesome project in Detroit for people to talk about, and had a blast doing it.  Perhaps most importantly, though, is that the record beaten was previously held be those who live on the other side of the Ambassador Bridge: The Canadians.
Now, all of us Wedgies have much love for our international neighbors.  Additionally, we have love for brilliant design whether it's product design, or branding.  So when I came across the campaign that was trying to "rebrand" Canada my emotional roller coaster ride began.  A series of images for billboards, magazine ads, bus ads, and more have been created.  They cleverly feature a Canadian-made product between two red bars essentially replacing the maple leaf on their national flag.
The first one that I saw was this one that declared that Canada was the founder of peanut butter.  Now this is a fun fact, one that can be used to make new friends, fill in awkward silences at parties, or to simply one-up your know-it-all friend (given they don't see this campaign).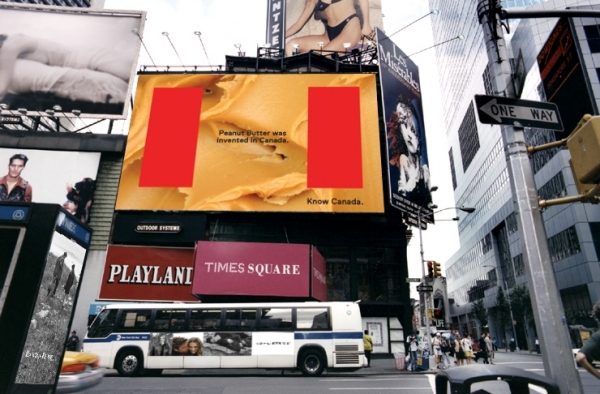 All of the images are awesome, the concept is great, and extremely cleverly simple.  Without the "Know Canada" notation at the bottom, people may not know what it is, but that's okay.  But as I was learning all these fun facts about Canada, I came across the purpose statement for the campaign:
Canada has an image problem in the US. When Americans think of Canada,
stale and often cliché ideas and imagery come to mind. Images like maple syrup,
hockey, snow and lots of it. These images don't pay homage to the
intellectual, creative and social contributions that Canada makes as a
country on a global scale. These clichés do not accurately
depict the 21st Century Canada.
In our redesign, we begin with an assertion that Americans simply don't
understand Canada. Our view is that Canada doesn't need a redesign; rather,
Americans need to be educated.
This gave me a laughter ab workout for days.  Even as I write this I find it hilarious to think that anyone can be concerned about what anyone thinks about Canada.  Is it really that bad to be known for delicious breakfast toppings, awesome large mammals, or quirky two-letter sayings that anyone can easily replicate?  Canada, you rock.  America loves you and all your bacony moosey goodness!
Video: knowcanada.org
Entire Campaign: http://knowcanada.org/BMD_STUDIO_360_REDESIGN_CANADA.pdf
Posted
by